Category Archives:
$11.99
Need something romantic to do on Valentine's Day this year? How about a road trip. Maybe to Canada? Maybe with a horde of deadly zombies trying to kill you the entire way? I really can't think of anything more romantic than that. Rocketcat Games and Madgarden seem to agree, as they've just released a surprise update for their zombie road trip simulator Death Road to Canada [$11.99]. The centerpiece of this update will be a special Valentine's Day Event, but of course you'll need to play on actual Valentine's Day to see it, so check back in tomorrow for that. When you do, Cupid will join your party and according to the developers "his sayings are VERY romantical" and he'll be sporting a new weapon, the bow and arrow. ..
Being a series that has traded as much on story and dialogue as anything else, Ace Attorney has been able to get impressive mileage out of using the same basic structure for more than 15 years. The biggest change the formula has seen came with the 2009 arrival of the first official spin-off title in the franchise, Ace Attorney Investigations: Miles Edgeworth [$0.99]. Following Phoenix Wright's rival and sometimes-ally, Prosecutor Miles Edgeworth, the game virtually abandoned the courtroom in favor of focusing on the investigations themselves. Taking a form similar to a point-and-click adventure, fans of the series got to enjoy a whole new perspective on familiar characters and locations. The game did well enough to earn a sequel, but that game went unlocalized due to how late it arrived in the Nintendo DS's lifespan. With the main series picking up again on the 3DS, most fans assumed we had seen the last of Ace Attorney Investigations...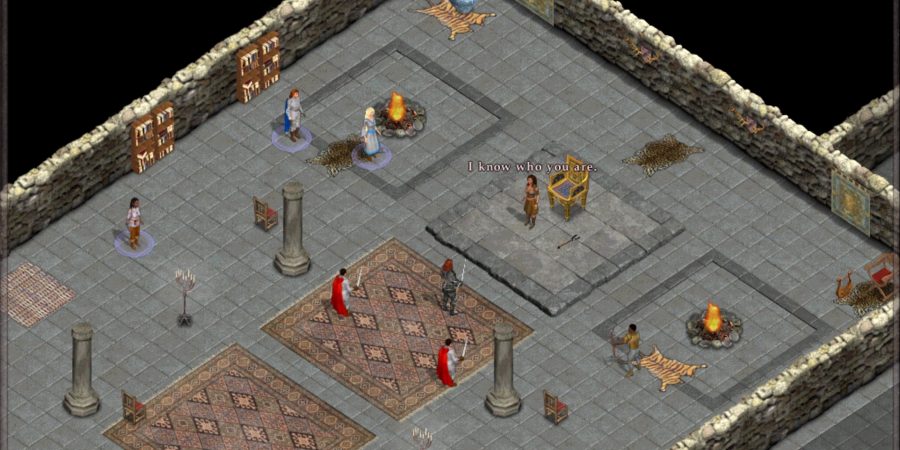 Jeff Vogel's Avernum and Avadon games are some of the best computer RPGs (CRPG) that you can get on iOS. All of them have tons of content with an excellent balance of story-based and open-world options and their respective tales are pretty compelling as well. While Avernum has technically been complete for awhile, Avadon was still a work in process with the final game in the trilogy released on PC earlier this year. Thankfully, Avadon 3: The Warborn [$9.99 (HD)] is finally out on iOS too, completing the Avadon series on the iPad with yet another absolutely amazing CRPG...
The long-awaited release of Avadon 3: The Warborn HD [$9.99 (HD)] brings with it both excitement for yet another excellent fully fledged RPG from Spiderweb Software, but also a sense of sadness. Avadon 3 marks the end of an engrossingly epic trilogy of titles that have been the benchmark for storytelling and strategy games on mobile, and as a conclusion to the Avadon series has a lot to live up to. The previous entry, Avadon 2: The Corruption [$9.99 (HD)], was lauded in our review back in April 2014, and the original Avadon: The Black Fortress HD [$9.99 (HD)] received similarly positive plaudits from the press, as well as an extensive dissection by Shaun in the RPG Reload series of articles; early impressions of Avadon 3 from its earlier PC release in September suggest that it lives up to the lofty heights of its predecessors. After quite a prolonged wait, and after a minor delay to the iOS release, Avadon 3: The Warborn HD is finally available to download for the iPad, but be prepared to part with a hefty $11.99 to do so - a premium price tag for an unequivocally premium RPG experience that is in relatively short supply on the App Store...
Dragons Odyssey Frane [$5.99] has the distinction of being the only game that makes me want to reach out and pinch its metaphorical cheek. Not only is it kinda adorable, it's also all sorts of loveable. Like the fawning, mud-encrusted niece that is never short of questions about unicorns, Exe-Create's port of their PC-based action-RPG title has a way of making you tilt your head and go "D'awww"...
In January Namco Bandai released an excellent iOS version of their classic 3D fighter SoulCalibur [$14.99]. A a fan of SoulCalibur on Dreamcast more than a decade ago, the faithful iOS port was a great way to re-experience the game. The virtual controls worked well, the graphics were crisp and high-res, and the finely-tuned mechanics withstood the test of time...
Back in the arcade fighting game heyday of the '90s, 2D heavyweights like Street Fighter and Mortal Kombat had to contend with a new brand of brawler on the block: the 3D fighter. Games like Virtua Fighter and Tekken forewent 2D sprites and single-plane gameplay in favor of 3D polygonal character models and a full range of movement within the combat arenas. Happily, it turned out that there was room for both kinds of fighters to coexist, with gamers enjoying 2D and 3D fighting games in harmony...
Just before the new year, we caught wind of Taito's plans to bring one of its classic properties to the App Store. Originally released as RayForce in arcades in the early nineties, it made its way to the Sega Saturn with its name intact but due to trademark issues was released in various other international markets under different names, including Layer Attack, Gunlock, and Galactic Attack...
Final Fantasy Tactics [$11.99] on iPhone and iPod Touch has inspired numerous, uh, passionate e-commentaries since its release earlier this year. One of the components we've seen the most bickering about has been addressed: Tactics' latest update zeroes in on the port's decidedly unspectacular visuals on retina devices and supports the screen...
Late last month, we detailed an impending update to CAVE's bullet hell shmup Deathsmiles [$11.99/Lite], and over the weekend that update went live in the App Store. It includes a screen shifting option to give you more room to control the game on either edge of the screen, unlockable costumes for Tiara in iPhone mode, brand new background music hidden in the game, and a number of new DLC items including weapons from past CAVE shooters Guwange and Dodonpachi Resurrection [$11.99/Lite]...
Today, CAVE sent over some details for the first major update to their latest iOS bullet-hell shooter Deathsmiles [$11.99/Lite]. In case you missed it, we reviewed Deathsmiles earlier this month and found it to be quite the bee's knees. Really, my biggest negative about the game wasn't even something that was the fault of the game itself. By nature, controlling your character causes you to block part of the screen with your thumb or finger, and with enemies approaching from either side of the screen, this can create some problems...
For more than a year now, CAVE has had a reputation of releasing high quality shooters on the App Store that featured hefty amounts of action, depth, and replay value. Their bullet hell shooters Espgaluda II [$11.99/Lite] and Dodonpachi Resurrection [$11.99/Lite] are two of the finest shooters around, and they proved they could translate their particular brand of manic gameplay to a more traditional action game with Mushihimesama Bug Panic [$6.99/Lite]. CAVE's latest title, Deathsmiles [$11.99/Lite], furthers their reputation of offering top quality shmups and us yet another excellent shooter to add to our collection...
Let's get this out of the way, Square Enix's Chaos Rings Ω [$11.99 / HD] is identical to the original Chaos Rings in more ways than one. In fact, its differences are so few, it's hard to differentiate the two and considering Chaos Rings Ω follows the original by a full year, that's going to be a bit disappointing to fans of the first game looking for something new...
Much to our surprise, Assassin's Creed II Discovery [App Store] popped up for sale on the App Store this evening, following a mysterious development cycle leaving everyone in the dark regarding the game's progress following the initial announcement at an Apple keynote in September of last year. We presumed the iPhone version would be released along side the PC and home console game, but that date came and went without a peep of news regarding the iPhone game. Whatever the cause of the delay was, the game is finally here, and so far it seems fairly impressive...